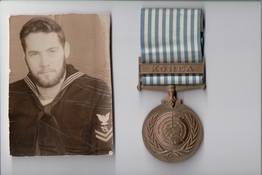 There is no denying that war shapes our history and thus our today. No matter which country you are from, war either sustained your status quo, or stood for a peoples' common belief, or defined your country's borders. The one thing all wars have in common is that they have been fought by people in the name of their country.

Here in the United States, we honor our fallen service men and women on the last Monday of May, Memorial Day, but many countries have set aside a day for the same honors.

This week's GOAL: Remember a Hero

Do you have a fallen hero in your family from any of the following wars?
· World War I (1914-1920)
· World War II (1939-1946)
· Korean War (1950-1955)
· Vietnam War (1961-1975)
· Persian Gulf War (1990-1995)
· Afghanistan and Iraq conflicts (2001-present)

Many of us have several family members that served at some point. Maybe in your gathering last week you even ran across pictures, letters or memorabilia of wars even before these. If you know of anyone in your family who fell in battle, honor them by learning their story. If any veterans in your family are still living, this is the time to get some of their stories recorded.

Lives were given for the lives we live – honor the service men and women in your family by allowing them to share their story.