This is a short week but it needn't be an unproductive one! By now, you've begun to gather pictures, old video, memorabilia, and stories. To keep these memories for generations to come, we need to digitize them. It's simply not realistic to expect these things to last for generations or get to the family historians of the future in the raw physical form. What if whoever inherits that precious picture of your great-grandmother doesn't realize who it is or doesn't pass on who it is? Once your photographs, negatives, slides and videos are in digital format they can be archived and retrieved in the future.

You may already have a computer and printer/scanner at home that allows you to scan images at a dpi (dots per inch) of at least 300 and doesn't have a light reflection when scanning. If you can change the settings, a 600 dpi is preferable for archiving. You can choose higher resolutions but unless you're going to blow it up to huge proportions it can be overkill. Remember too that the original photo was probably not high definition so even if you scan at an extremely high resolution, when you do blow it up it still won't be as crisp as the photos we take today.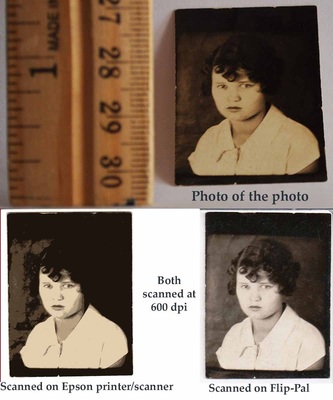 My Epson Printer/Scanner uses reflective light for scanning. Depending on the original image's finish, that can throw it off. I had the same issue with my old HP printer/scanner too. Here's a comparison of a photo of the photo taken at high resolution zoom (note the size of the original is about 1½ inches tall), a scan on my Epson printer/scanner at 600 dpi and a scan on my
Flip-Pal
at 600 dpi.
IF
you are going to purchase a scanner for your genealogy archiving, we HIGHLY RECOMMEND a
Flip-Pal
. Here you see what it can do with a tiny picture. It does great with 4x6, 3x5, 5x7 photos but also larger photos, portraits, book pages, album pages, tapestries, etc. It's also portable.
Watch our video on using Flip-Pal.