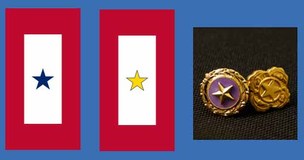 While you were gathering memorabilia last week did you run across any of these? Starting in World War I, the first two are banners that families would hang in their windows indicating that they had someone serving. The blue star indicated both pride and hope that their loved one would return safely. If a gold star was sewn over the blue, it indicated that family had lost their soldier in battle. It still hung with pride but now also with sadness and respect of the ultimate sacrifice. When that happened, a gold pin like the ones shown here was given to the mother and/or the family. Finding a gold star banner or pin means someone in the family did indeed die serving. If you have found evidence but not found relation or names, please dig a bit deeper to honor that soldier. Remember that most men and women serve before they have children so oftentimes no legacy is left behind. Look for uncles or aunts.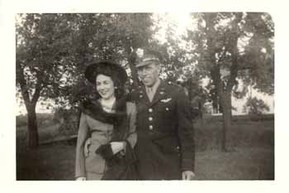 On the
Capture
page of my sight is Carl. Carl married my aunt while on leave during World War II. Here is the one picture I have of them together. Carl was a pilot and was shot down. He left behind a young bride but no children. This all happened long before I was born but the stories of the war, Carl, my aunt, and how the family helped her through her loss touched us all. Those stories remind us of the importance of freedom, the depth of love, the sacrifices of war, the strength of family, the endurance of country.
Passing on those stories honors those who gave their lives for us.