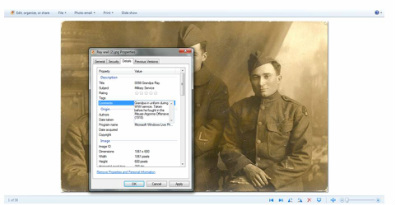 "Who has that kind of time?" It's what I hear from people when I tell them what I do. It comes right before or right after, "That's a great idea!"

Last night while I was watching TV, I sat with my Flip-Pal and just scanned photos from an album. I haven't even downloaded them yet but at least they are now digitized. I only have about 14,000 more to go! ☺While I'm walking you through the making of a family history album week by week, you need to work at your own pace in your own time. You might only work on it 20 minutes a week. It will take longer than a week to complete each segment that way but anything is more than you had yesterday!

I find it ironic that we have time to scan and make a slick collage of photos to post on Facebook yet have no time to save, file and catalog these photos for future family members. You have already scanned them! Why not put them into a folder on your computer or cloud so you can later add them to your family tree video?!?!? Two weeks ago was Father's Day. If you were one of the millions that scanned a picture of you with your dad or grandfather but have not made a folder on your computer to keep everything you find on previous generations, do it now. The folder should bear the family name and each photo should be numbered (0001, 0002, 0003 etc.) as well as titled with who is in it.

Find and open a jpeg on your computer. Any jpeg. Now right click on it. Click on Properties. The box that appears with tabs at the top will most likely be on the 'Details' tab. Now click on 'Title', 'Subject' or 'Comments'. Click on the blank space to the right and you can add your own title, subject and any comments that you'd like. Do that with the picture you just saved to your computer. That information travels with the picture now that it is digitized. 0001-GreatGrandpa Ray, Military Service, Taken during WWI

Remember too that this is a project that has no real end. You may want to focus on one person or one family unit and put what you have together now and move on to another branch of the family tree. You can always add another person or unit as you gather more information. Again, anything you do makes a difference, and will make a huge difference to future family members trying to recreate the family tree.