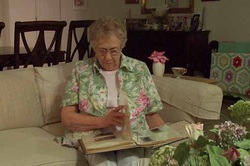 Interviewing is easy but important. Preparing is worth a second week to make you aware of the details to get the best interviews you can. Last week we made you think about lighting and sound – both volume and surrounding noises. This week we'll look at some other details that can make a huge difference.
The first family history films I did outside my own family, I met with my subjects many times before we actually turned a camera on. My employer thought I would need to get to know the family, their history, and my focus on their story before I got anything on camera. It was a mistake. When the stories were repeated, they were not as detailed because the teller knew I had heard them before! In one instance, I then interviewed the children of my subject and they knew I had not heard their stories so they were much more in depth since they needed to set their stories up for me. Future viewers will need even more set up! If your grandmother tells a story about party lines, future generations may think she's talking about line dancing at a party – not some unknown person on her telephone - a telephone with a rotary dial that's attached to the wall!
I also storyboarded
[1]
the films as if I now had a script, knew what I wanted my subjects to repeat, and how I wanted them to word it. Again, a mistake. That's how you would make a fictional movie with a script, actors and producers. A personal history movie should be more candid, more real, more relaxed. You want to capture the family history, their stories,
and
the actual family. That will be much more meaningful to future generations.
Consider having the camera on while looking through photo albums and then be ready to scan those photos for your project. Photos can be very memory provoking and a fresh reaction is priceless.
All of this takes more memory on your camera and more editing later but your results will be well worth it!
_______________
[1]
Storyboarding is laying out the sequence of your movie by scene. We'll look at it more closely later.