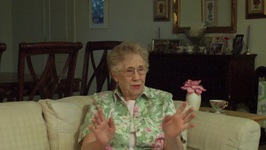 Interviewing...
It looks pretty easy when you watch those talking heads on television, but there is an art to interviewing. Don't worry. It's not difficult but it requires some forethought. Planning and preparation is very important.
· Think about who you would like to interview. Are they nearby or will you have to plan a trip?
· What will you ask them? You'll almost always start with reviewing the family tree as you know it. Not only will you get more information about dates and big events but it will also spark their memories.
· What else will you ask them? You'll want to have an entire list of questions for them before you meet.
· You may have an opportunity to find out who is in those old photos. Do you have any pictures that they may be able to identify people and places and eras? You'll want to plan to take those with you so put them with the other things you plan to take with you.
· How will you capture your interview? Do you have a camcorder and tripod? Maybe you're planning to use your smartphone. Do you know how to use it? Does your camcorder or smartphone have enough memory?
We've put together a meeting packet to get you started.
Download it here.
This process will take some time and there is more to consider as you get ready to interview, but we need to start thinking and planning.
When I interviewed my dad, I did everything wrong but I was so thankful I had done it because he died before I could get a second interview done. Don't put it off!