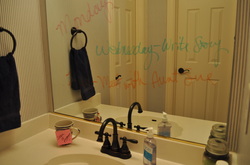 It's time to refocus and rededicate a bit of yourself to future family members. I had three great aunts and a great uncle that never married or had children. To my siblings and cousins, they were like having extra grandparents since they didn't have any of their own grandchildren. They took the time and effort to look into the family history. It was quite an undertaking since there was no Ancestry.com, MyHeritage.com, newspapers online or Wikipedia. But they did have funeral notices, newspaper clippings, family lore, library micro fiche, and Collier's Encyclopedia. They are the reason I know that branch of the family came from Dresden, Germany in the mid 1800's. I always knew that branch better that the other 3 because of their dedication to passing on the family data. I have one of the many copies they made of their research and thank them frequently as I try to recreate the rest of the tree.
So whether you have children or not, you came from someone, somewhere and
your efforts will make a difference
to and be appreciated by someone, sometime.
But we all know that life gets busy. We get distracted. We forget about things that are not pressing and then 10 years later we think, "Why didn't I do that?" There will be times when you just get too busy. Other times you'll be waiting for a picture from a relative and time seems to grind to a stop. Then you put it aside and forget. Here are a few ways to keep it going:
1.
Choose a time to work at this each week. Even a half hour will really make a huge difference by the end of a year.
2.
Come up with a way to remind yourself –
and then follow through!
Use a dry erase marker on your bathroom mirror and don't erase it until you've spent your allotted time on your family history.Set a reminder on your phone for your allotted time.
Put it on your desk calendar or outlook calendar or kitchen calendar or…
Send yourself an email and don't erase it until you feel you are back on track
Put a Post-it note on the refrigerator or your coffee cup.
Make it your screen saver.

Whatever works for you to remember to work just a few minutes until you feel refocused and rededicated.