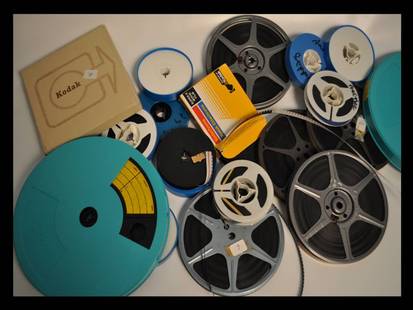 Now that you have identified whether you have Regular 8mm or Super 8mm reel-to-reel, (Monday's blog) you now need to do some math to decide the best way to digitize them. To digitize them yourself, you will need:
A working projector (remember that if you have both Super8 and Regular 8mm you'll either need separate projectors or a dual projector)

OR
A Wolverine (please click here to get it from our links page)

And time (using the Wolverine is a frame by frame process. Each frame takes about 12 seconds)

If you have either or both of those, stay tuned! Next week we'll go into detail on the process.
If you have none of those, then you need to do the big math questions. Buy a piece of equipment or send it in to a professional service. How many reels are you going to be digitizing?
Buying a camcorder (or using your smartphone) is a no brainer to me. You'll use one for family interviews or to simply capture life as it happens now. Camcorders are a good investment. A projector is another thing. I have a graveyard of projectors. You can't get them new anymore yet they are still protected by patents. Your only option is to buy used and it is easy to get burned. The first thing to look for is that it is in working condition and HAS been tested WITH FILM. Just because the motor makes noise or the wheels turn does not mean it will show film. You'll pay between $75.00 and $175.00 for a decent one on eBay.
If you only have one or two reels, you may consider sending them in to a professional service. There are, however, things you need to consider. First, think about the safety of your films. When you take them to a national chain pharmacy or big box store, they are not being done on premise. That means you are relying not only on an unknown third party's expertise, but also the employees at the store following procedure to get your items shipped correctly AND the shipping company to deliver your precious memories timely and without incident.
Secondly, and just as important, you need to be sure that what you get back is editable by you. Costco, CVS, Meijer, Rite-Aid, Sams, Walmart all use Yes Video. That means you will receive a DVD and your files will be in .vob files (Video Object files). In all my different video software, none list .vob as a downloadable file. It's not that it can't be extracted but you do have to have a little more computer knowledge to do it. cnet has a free download available so it's not impossible. Expect to pay $80 for each 7-inch reel (about 25 -30 minutes of film) $20 for each 3-inch reel (4-5 minutes of viewing time). If you consider sending them to someone, check online for other options. Many of those will remaster your film too at minimal costs and provide it back to you in HD, editable, avi files. Some will put your films onto a storage drive instead of a dvd which would retain more purity and allow you to easily use only what you want to use.
This is probably one of the most expensive and yet the most rewarding parts of this journey. Video tells so much about a person that a picture just can't capture. It's engaging. It's worth passing on to future generations.