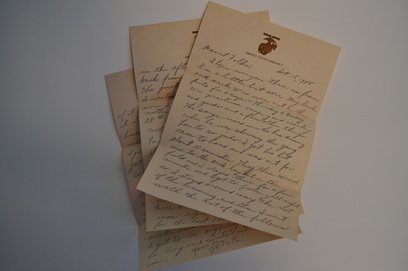 In among the box of photos and mementos that my sister brought me last week was this letter. My father wrote it to his family while still in boot camp serving in WWII. A few things struck me that I had to share.

1. It was not in an envelope but luckily Dad dated it! It shook me how important that little date notation at the top of his letter meant. It put a time frame to what he was sharing and thus is still sharing. I will be putting a date on every piece of correspondence from now on.

2. It was handwritten! Who knew that handwriting, print or cursive, would someday be an archaic idea? Will correspondence ever be as personal again? Will it ever require the time and thought and effort that it once did?

3. He was 17.

4. He wrote of what he had faced that day, how he felt, what he had done, who else he had heard from, how proud and happy he was for his older brother who had been promoted to "sarge." He was very excited that there was a possibility of him coming home on leave in a couple weeks. He would be bringing a friend with him. Could they possibly plan a good meal?

A simple letter home that my grandmother saved. 69 years later it is still precious, still meaningful, still giving insight as to what was happening and what was important to the writer. I will try to write a little something on the cards I send. I'll date them. I'll do what I can to encourage my grandchildren to write also - but keep enjoying the texts and emails they send as well. I'll appreciate each good meal.

Oh, and I'll scan and use this letter in my family history movie so it will be archived for future generations to enjoy and gain their own insights!