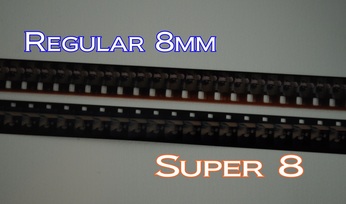 This week we are going to look at how to digitize your old Regular 8mm and Super 8 films. First recognize that these are old. 16mm film was used until Kodak split it down the center and brought us 8mm film in 1932. It was used first to bring movie watching into the home with the growing movie industry trying to reach even the most rural of audiences. As cameras became more affordable, 8mm became consumers' favorite until 1965 when Kodak brought us Super 8. Super 8 had smaller holes leaving more room on the film for the picture – hence, Super 8. In the early 1970's, a sound track was added to the Super 8 but most homes didn't have a projector with sound playing capabilities and the beta vs. VHS wars were in full swing. Since a new technology was on the horizon, few bought the cameras or projectors that would allow the everyday consumer sound tracks to their home movies.

Because the sprocket holes are different sizes with different spaces between them, they MUST play at separate speeds on separate cogs. Just look at the picture to see that one sprocket hole may match up but then each one separates just a bit more. That means we have to use two different projectors or a projector with dual-settings.

Do you have any old reels of film? Time to identify what you've got!