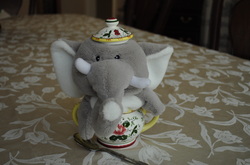 Have you thought about what or who you want your first family history video to highlight? We brought you some ideas on Monday. Did you think of any others? (Feel free to leave a comment. We'd love your input!) Maybe you just want to give Mom, Dad or even the kids a unique Christmas gift this year.

What would you like to include in your video? You've digitized many mediums. You may have even done some new filming or interviewing. Take some time to look through it. If you've been working for years to research your family tree, trying to narrow it down to a few minutes may feel like stuffing an elephant into a sugar bowl. It is simply not possible. So choose just one section of your tree for now. Choose a family unit or a person or a couple that you have some pictures of.

Next build a folder on your computer with that name, i.e., Harry and Ida Smith, or Harry Smith, or the Harry Smith Family. Move or copy everything that is related to your subject into the folder. Include all your pictures, videos, stories, and research specific to your subject. Not sure what to include or when to say "when"? It's ok. You can always add things you may have missed so try to just include things that you couldn't tell of their existence without. For Harry and Ida, it would include their wedding pictures and maybe the family portrait. Do you have that scanned newspaper article about Harry or pictures of him in his military uniform or a photo of his medals? The Smith Family would include that family portrait that includes all of the children and maybe some family videos. Very possibly there will be overlap in what you'll use. Harry's life included his wife and children so doing his story would include many of the same things as a story about him and Ida or a story about their entire family unit. But if you've got enough that is specific to Harry – maybe his business life or life before he met Ida – then you might want to make one just of him. We are just shooting for a focus right now so the project doesn't seem overwhelming. You can always make one of the entire family unit later and it could be made up of several short focused segments.