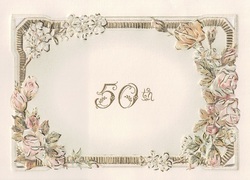 We are going to move into software next but before we do we need to have an idea of what we want to concentrate on. There are many ways to present your family history in film. Here are a few examples:

One Event – Special Birthday? Graduation? Wedding? I've mentioned before that my first video compilation was 16 years ago for my parents' 50th Wedding Anniversary. It was a history of their life together up to that point. It was about 25 to 30 minutes long. There was no script but it had video with sound and without, interviews, background music, and still pictures. They were thrilled with it. They knew each house they had lived in, each park they frequented, each favorite restaurant, each area of town that the street car wound through as they met. We didn't need to explain or name each of their 4 babies or which year pictures were taken. It was a gift for them only. If I were doing it today, I would be thinking of what people 50-100 years from now would be thinking as they watch it. That requires a bit more explanation, even if it's simply adding text titles.

One Family Member – It's not unusual for people not to want to talk about themselves, but ask them to tell you about their mother and, wow! You'll get all kinds of information. If you have enough information to fill 15 minutes on just one family member, that may be the way to go. Then follow up with another family member and another until you feel you've covered as much of the family as you are comfortable with.

One Family Unit – This may be the most work but the most rewarding. It will show a true family history and the relationships with parents and siblings. Most of us can choose a time in our history with shared struggles, tough decisions, relying on family, and subsequent outcomes. What a phenomenal gift to future generations!

One Year in Time – Maybe there was a pivotal time in someone's or your family's life. Or maybe you have so many films and pictures of your grandchild that you are going to concentrate on one year and add another each year – much like scrapbookers do each year with the family photos.

Memorialize – You may have made a video or compilation in haste for a loved one's funeral service. You could add dates, names, relationships, eras, or remaining family interviews now that the raw sorrow has lessened.

Your Tree Research - You may want to simply make a video explaining what you have learned in your research of the family tree. For Western Hemisphere non-natives or Aussies, it could be you've traced back to your original country. You may want to cite your sources, show pictures of the boat that they traveled on to their new world, or your suspicions as to why they left their home country. Even Old World families moved around. If you have worked to research and found a lot of answers, think about doing that 50 years or more from now! Don't make them start from scratch or lose all the work you've done! Put it into a video/book that can be archived and then found by future family members.

Give some thought to what you have and what you would like your first project to highlight. If you are new to video editing, you may want to choose a simple subject and shoot for a 10-15 minute film.