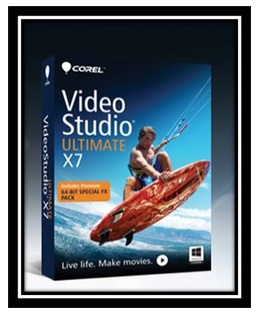 Now that everything is digitized, it's time to compile all your information into a video. That requires video software. Don't panic! We will walk you through each step. First though, let me explain why we chose the software we recommend.
We have taken several years to come to the conclusion to recommend Corel VideoStudio. Whatever is the most current Ultimate X (just upgraded to Ultimate X7.) It is the most affordable while still giving you plenty of what you will use for a family history video. It offers many options without being overwhelming to learn. Perfect for the genealogist that doesn't really want to become a movie maker but still wants to make their hours of research available and engaging to future generations.
If you already own and know how to use technical video software like Adobe Premiere Pro or Final Cut Pro, Corel VideoStudio would be redundant. But if you are new to video editing both of those can be very time consuming to learn. There are many classes you can take at your local community college for Adobe products but I have never found one specific to Premiere Pro. Same goes for Final Cut Pro. That means that unless you are in the business or are attending a college and working in a Bachelor program, you will have to learn video software on your own. That is really scary if you've never done it before!!
And these two programs are not always user friendly. Simple things require you at least know some of the language they use and they are not always words that you use in everyday life.
Both of those programs also require a large amount of memory on your computer to function well so that may require an added cost of buying a computer, graphics card, etc. If you plan to do other types of movies that require a lot of special effects it may be worth the memory and extra cost but most family history movies don't need more than a few basic special effects.
There are other programs out there that are less expensive than even Corel Video Studio Ultimate but I found them very "buggy" (crashing often) or they didn't do enough to make an engaging, comprehensive family history movie. The difference in cost is minimal – too minimal not to get the better software. The simplest programs that are built into your windows or mac, Windows Movie Maker or iMovie, just don't have enough functions to tell your story.
The final criteria were support and learning aids. The Corel team is very helpful should you need them and there are lots of great You Tube videos available to learn how to do different things. You can also buy private sessions with Corel and they are great. You tell them what you want to focus on and they do their best to answer each question you ask.
In summary, Corel VideoStudio Ultimate X7 is affordable (under $100), easy to learn and use, doesn't use up as much memory on your computer as the larger programs, and you can learn from many different sources. We could have offered many software options on our site but since we recommend Corel VideoStudio Ultimate X7 and will be using it to teach you how to make your family history movie, that's what you'll see on our
Links
page. Should you decide to take up this endeavor, we would appreciate your buying it from us. You can even start with a
Free Trial.