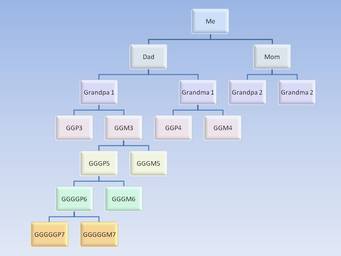 The image you choose to represent your overall theme to your Family History Video is your anchor photo, or keystone image. You will probably return to the image several times throughout your video. If you are concentrating on a person, then make it as good a photo as possible of that person. If it is a family unit, expect to go to it each time you talk about one of the people in the family photo. If it is your research as a whole, your anchor image may be your family tree.

If you are a fan of the television show Who Do You Think You Are, then you'll recognize that they go to the tree often so the viewer can follow along with the research. That show is definitely about the research and discovery of genealogy.

The tree may help you lay out your video into chronological order or show a relationship when a story is being told.

The tree also substitutes for important ancestors that have no images available. Just because you have no images of them, doesn't mean they are not worthy of talking about if they are in your tree. When no images are available, you'll want to explain where they fit in your family and maybe show an old census or the passenger list of the ship they traveled on when leaving their home country, or a painting of them, or the city where they were born in on a map, or a likeness of a castle or hut from the era in which they lived.

We will be using a mixture of both photos and lineage charts in our example video. Our anchor will be the photograph of the family unit we shared last week. The charts will be used from time to time also though so make one for your own use. We made the above example using PowerPoint but you can use, Keynote, Excel, Numbers, a screenshot of your online research, one made from several tree-maker softwares available, or even a scanned pencil and paper creation.