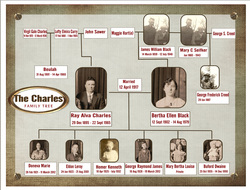 We've talked about using your tree as your anchor image but next week we're going to show you how to follow the lines of your tree in animation. Either way, you'll want a tree and you'll want one that is easy to read, clear, and asthetically pleasing. This one was made using a scrapbooking software. There are lots of them out there and they needn't be expensive. (We found this one in a bargain bin for $9.95 with a $10 mail-in rebate!)

Only 4 photographs were used and one of them was our anchor image (which you're probably familiar with by now.)

So your "to do" this week is to make a tree and get it scanned so you can use it in your family history video.