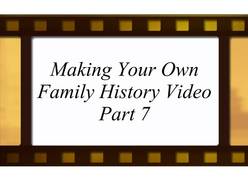 We've followed the red hair in our subject family. What do you want to follow and highlight in your Family History Video? It may even be more than one thing.
We also steadied some shaky film and that process will steady even old 8mm, mini DV or VHS that have been digitized.
Make a pretty, but clean and clear, tree if you haven't already.

Watch Part 7 – Your Family History Video if you haven't already.

Make note of where you may want to insert the tree into your video.

Practice using the painting creator.

Get creative! Have fun! Share!