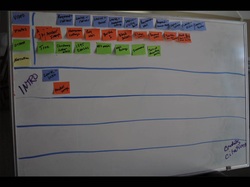 Part of the creative process in making a Family History Video is planning the sequence of your clips, stories, and photos. Most theater movies have a beginning (intro to characters and time), middle (the struggles and conflicts), climax (daring, interesting, exciting solutions) and (hopefully happy) ending. A Family History Video, however, may be as simple as an introduction to your ancestor(s), where and when they lived and maybe a simple story or two about them that reveals their character or strength – or is simply entertaining. If your Family History Video is about your genealogy research like Who Do You Think You Are?, it may be as simple as a listing of the tree and the citing of sources so future generations can carry on your research.

Don't expect it to be a theater production. It can be if you are so inclined, but you can also get so caught up in creating drama that you don't capture the reality of your subject. The goal is to pass on your family history to a generation that has yet to be born. Setting a historic timeframe and relaying the relationship with photos, videos and stories will be as exciting to future generations as you finding that 1860 ship's log that revealed the relative you were looking for, or that little part of the U.S. 1890 census unburned that showed one of your relatives! Picture a descendant finding a Family History Video that you made. It doesn't have to be a theater production to be an exciting find. It just needs to be real. What if this technology was available in 1790? What would it reveal? How would it teach you about how your family made the decision to immigrate or build that east tower or plant beans instead of raising sheep? Or simply their accents and the words they used to express an idea of their time. Would you enjoy hearing your great-great grandfather's laugh? Yes, your descendant

Since you have split your interviews into small pieces and you've compiled all your media into your video library (not that you can't add more as you find it), you can sit and look at where it takes you. As you think about what you have to work with, what strikes you as interesting? How did you get to that interest? Were there any turning points that stand out?

Answering those questions will allow you to "see" the video sequence in your mind. Taking that a bit further in detail is called storyboarding. Electronically, you can use Microsoft Excel for storyboarding. It is excellent for compiling each element and then you can cut and paste to move groups of elements around to your liking. But you can use Post-it notes or 3x5 note cards or even your Corel VideoStudio Ultimate.