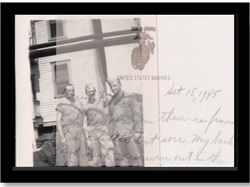 We've touched on how to apply a graphic or photo to an overlay track on Corel VideoStudio Ultimate X7. This week we're going to dive further into that topic and show other creative ways to show your family history. Since tomorrow is Veterans Day, we'll be using a military theme but the same techniques would apply to other themes.
During your interview with a family member, a good practice whenever they speak of military service is to ask about letters. Handwritten or telegraphs are most dramatic but typed or even emails will work. Have your interviewee read a letter aloud. They don't have to look at the camera while they read. Scan or take a picture of the letter they are reading. Ask for a photo that supports the letter, in our military example it might be their military in-uniform photo.
You can also use stock video. A simple DIY (do it yourself) would be to film a national flag waving in the wind for a military theme. However, there are great resources for stock footage that is mostly open copyright – of course, it's ALWAYS up to you to confirm use of someone else's work. However, personal, non-profit work (which your personal Family History Video will probably be) is relatively a safe avenue, especially if you credit the work as presented on the video or in the credits. Check out
archive.org
or
commons.wikimedia.org
. Check also the local libraries of a town or county you are researching. Within any of those resources, you can search for specific years, wars, or item ("waving flag"), etc. In the U.S., for explanations and a list of other resources, go to
www.publicdomainsherpa.com
. Explore. Enjoy.