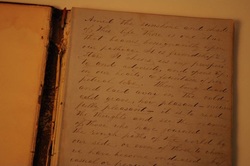 We've paused to recap and refocus on our Family History Video project. If you've stepped away because life got busy, it's time to step back. Slowly allow memories to regain a spot in your mind. Make notes of them to recall later. Use your smart phone, a camcorder, or a voice recorder, or a simple pad of paper and pencil to save your thoughts. Sketch out your tree as you know it. Look through photo albums or old trunks for inspiration.

For my genealogy friends, don't forget to look beyond the tree to the people. Write down your impressions of the family members you've found. Why do you think they moved from one place or another? (If they hadn't moved, you wouldn't have any trouble finding them and you probably wouldn't be interested in genealogy.) What stories have you learned about them? What have you learned about yourself while searching your family history?

Imagine if 50, 100 or even 150 years ago, these family members had written their own thoughts and you found them. How would you feel? I have a precious book from my great-great grandmother. In 1861, after some kind of loss it seems, she started keeping a journal of sorts – a guest book. When any of her friends visited her or she visited friends, they wrote in her book. (See photo – check out the handwriting!) Here's a passage:

Amid the sunshine and shade of this life there is one star that beams benignantly upon our pathway. It is friendship's star. It cheers us in prosperity and adversity, and opens up in our hearts, a fountain of perpetual love. When long dead and laid away in the cold, cold grave, how pleasant – mournfully pleasant – it is to read the thoughts and see the names of those who have journed in the rough paths of the world by our side, or even of those to whom we have become endeared by casual or frequent intercourse. As a shrine for the deposit of these sacred mementoes this Album is dedicated. May owner and contributors share each others sincerest regard in time, and through grace, in eternity, share the smiles of him in whose "presence there is fullness of joy and at whose right hand there are pleasures for evermore."

Southport, N.Y. Feb 2nd, 1862 Thos. Mitchell

There are pages and pages of dear friends writing kind notes to my GGgrandmother. I have to assume that she was a kind person to amass such respect and support. The pages also take me from 1861 to 1889, through New York, Pennsylvania, Illinois, Wisconsin, and Kansas where I was born. She was married in 1863, had 4 children between 1866 and 1880. In among the pages I found a note that my great-grandfather, her son, had written explaining his connection to the book, mentioning where he was born (Kansas), his birth date, and even noted the first day he started working for the railroad.

What a gift! Leave a gift for your great-great grandchildren. Create your own Family History Video. Helping you do that is what this blog is all about.