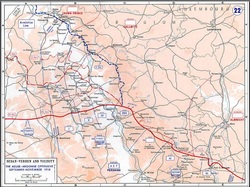 As we look for our ancestors, we often find that they moved around. Part of their story is why. What makes a person, or a family, leave their home and make a new home elsewhere? The reasons are as diverse as the people. You can spend years researching the reasons and the path. Once you have even a portion of a trail to where each family ended up you'll want to save it for future generations.

That's our subject this week. Maps. We can trace an exodus, a covered wagon trail, a ship, a train, or even a plane from country to country or county to county. In our example family, we'll simply move within just a few states in the U.S. Although we know that the families came from Ireland, Germany and England, we don't know when or why yet. But since genealogy research always moves backwards, we need to trace back as far as we can firmly substantiate. Censuses, passenger ship lists, military papers, directories, rite records, and even gravestone locations can all be clues as we trace back in time and place.

This is also a great way to explain a battle or campaign. In our subject family, the father was in the Meuse-Argonne Offensive of WWI. Are there any wars or battles in your family history that affected a relationship or prompted a family to move? Maybe you need to explain a hero's path, or follow the Trail of Tears or the building of a railroad or canal.

Get your maps ready! There are Public Domain maps on Wikipedia or davidrumsey.com.