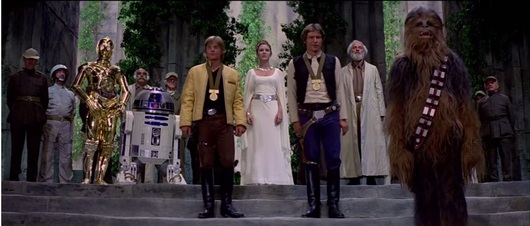 One of your goals as you make a family history video, is to relate to your future family members. A timeless and universal relational tool is music. It evokes emotion no matter what language is being spoken – if any words are being spoken at all. A simple melody behind a slideshow of pictures can be very moving. Add music to moving picture of a past relative and it becomes fascinating - because it's relative. In fact, without the music, a video can fall flat. It seems much longer than it is.
Watch the final scene of Star Wars without music.
The kind of music you choose can change the feel of your video. Watch this
scene from Pirates of the Caribbean with different music.
Now that you know what a difference music can make, listen closely to all your favorite shows to see how they use music. You probably didn't even notice they had music before purposely listening for it. Begin thinking about what music you would like to add to your video.