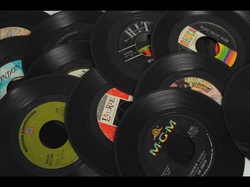 This week was about music but this week's "To Do" is more general. This time of year we find only little pockets of time to work on our projects since there are so many other distractions. There's no reason to totally abandon them though. We hope we've inspired you over the past 6 months to:

Take photos with a new purpose. Never stop taking photos when the opportunity arises but also take some that are very deliberate. Is the family gathering for the holidays? Get out your tripod and learn how to use your camera timer. Those are the pictures that you'll appreciate today and your future generations will appreciate for many years to come.

Tell each other the family stories. Get out the video camera and start asking questions. Catch the laughter. Catch the interaction. Catch the children's reaction to that story you've heard over and over but is new and exciting to them. Don't worry about the extra noise. While the family is together, you can set a quiet, planned out interview date and time for the coming new year. Need a conversation starter? Get out an old family album or your old projector and 8mm films to share with the family.

Watch movies and documentaries with new eyes. Documentaries – you've got this! You've learned how to make old still photos come to life using pan and zoom techniques. You've learned how to follow a trail on a map and how to make a trail up the family tree. You've learned how to interview, how to steady shaky footage, and how to transfer old movies to digital. Watch how the professionals use these different elements. Watch movies for things you like - background music, shot angles, stories, close-ups, panoramic scenes, mixing old reel footage with new.

Listen to music with new ears. What era does that song represent? That orchestral symphony would be great background music! What's the name of this song?

Appreciate the past, enjoy the present, plan the future. Making your family history video does all of that. Not only is it capturing what you know of your family's past, but it's fun to learn more about them as you do it. Just the acts of digitizing photos, Super 8 films, or VHS tapes will bring an appreciation not only to you but to many other family members now and in the future. Adding a couple interviews with that Aunt or Uncle that you don't get to see often is priceless. One Sunday a month spent with Mom or Dad with the video camera going, can't be replaced. You'll be glad you did.