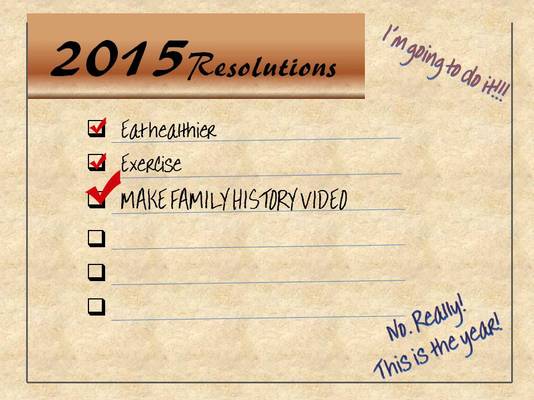 So many resolutions!! So little time!! So which resolution will lasts beyond 2015? What transcends a year in our lives? THAT'S worth expending some time and effort. Collecting the family history and passing it on lasts not only beyond February or March 2015 but beyond our lifetime!

What if you could ask your great-great grandfather what his resolutions for 1915 were? What if you could see his expression as he told you about them? Does his smile come easily? Is his disposition open and friendly or closed and quiet? Does he count them off with his fingers just like you do? What if his laugh while remembering his unmet resolutions of 1914 reminded you of your father's laugh? What if you could compare New Year's resolutions lists –his and yours- one time? THAT'S the gift you can give to your great-great-grandchildren!

They didn't have video capabilities 3 generations ago. We do now. Let's use it!

Let's resolve that this is the year that we compile our family history video to be passed on to our generations to come!