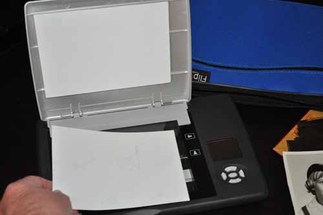 We are beginning the digitizing of our treasures. This will be an
ongoing
part of the archival process.
1. Figure out how you are going to scan pictures. You may have a scanner, plan to take them somewhere to be scanned or you may be planning to buy a scanner.
2. Start scanning. Choose 10 pictures and scan them. The best way to learn to do it well is to scan a few and then look at them blown up on a bigger screen, like your computer.
3. As you scan, name and number each picture. This will help you later as we storyboard your project. (Don't panic. We'll show you how it's done.)
You will find as you gather your family's history that a picture will incite a story. Scan that picture and write that story. You may hear a story and then look for a picture or 2 of those people from that time period. You will come across photos that you like of one person, a family unit or even an entire family. Those will be useful in telling future generations your (and their) history.
Each time a tornado or hurricane or flood or fire or other disaster hits, so much is lost. It needn't be! Once a picture or video is digitized it can be placed in the cloud, put on a disc and placed in a safety deposit box, or put on a small drive that you can grab and take with you. Once it's digitized you could even have it in 3 or 4 places if you choose! When my sister's house burned to the ground in 1986, none of that was really possible. I took all my pictures of her children out of my albums and made her a new photo album. It certainly didn't come close to their collection of photos but it gave them a connection to a past that seemed, at the time, to be destroyed. Start scanning!
(Buying a scanner? Get a Flip-Pal!
Click here
.)