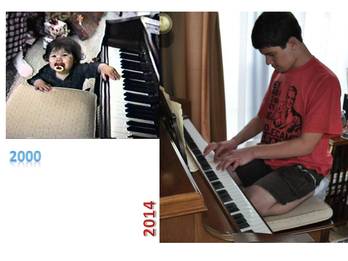 Since we started this journey into making our own family history video to be archived, we have tried our best to teach you how to digitize every type of medium (photos, 8mm film, slides, negatives, etc.) and how to capture new footage interviewing family members. In Wednesday's blog, we likened the movie
Boyhood
to our family history stories.
Speaking of boyhood…This week is our grandson's 15th birthday (see picture.) It was such fun going through our digitized old tapes to give him a video of himself on his first birthday and the following few months. Doing that exercise on each family birthday this year has been a wonderful side benefit to digitizing all the videos and pictures that make up our lives.
So here's your 'to do' for this week:
As you go about digitizing your photos and videos to add to the family history archives, don't forget to enjoy the here and now. Take more photos and videos as you see family and friends. Those will be treasures one day. Call it your Labor Day of love.
We'll be back next Wednesday. Enjoy your