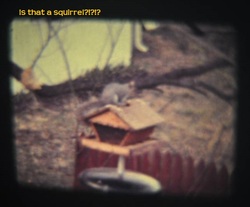 For the last two weeks we have covered digitizing your family's old Regular 8mm and Super 8 reel-to-reel films. First making the decision as to whether you should send your films to a professional or record them yourself. While the math is a logical way to decide, there are emotions that come with watching your family's old movies. The warm emotions are that you'll look at these films again, possibly sharing them with other family members, and remember an earlier time or those people in your life that were important to you but are now gone. You may experience the heartbreak of watching your treasured film break as you work with it. (If that happens, don't despair! Use a Wolverine to capture those frames. Get it from our
links
page and watch our video
Digitizing Negatives and Slides.)
I want to share a story. As I was going through this process and watching all of my family films, I ran across one that was about 5 minutes long. The entire film was the antics of a squirrel in someone's backyard. Ok, it was kind of cute and I'm sure that whoever filmed it had a fun time watching that squirrel that day. However, I couldn't help but wonder how I would have felt had I sent the film in to a professional to have digitized. It was a 3-inch reel so 50 feet at a transfer cost of 20
¢ per foot, i
t would have cost:
$.20 x 50 = $10 plus a $20 set-up fee plus a $10 DVD plus shipping and taxes (at least another$10)=$50!! The cheapest I found for a reel like that was $8.99 per 3" reel plus shipping to and from. But their shipping was $34.99 totaling $43.98!!! To find out it's a squirrel!
Now if that was the only reel of old film I had and I had no way to watch it, it still would have been cheaper to have sent it in than to buy an old reel-to-reel projector for $100 to watch it. Disappointing, but cheaper. And since I didn't recognize the backyard in the film, I always would have wondered if the processing lab got my films of grandma mixed up with someone's who was really into squirrels!
So when we say "Do the math" there is no emotion and we assume that every foot of film is something to save for future generations.
There is one other thing that I hope you have learned these past two weeks: Anything left in a medium that you can no longer see or share is as useless as that squirrel film. If you don't make the efforts to digitize them now they will be completely lost within a generation. Save your family's history. Start digitizing today.